Catastrophic Gamma Ray Burst A Bit Less Unlikely To Hit Earth
This post has nothing directly to do with Artificial Intelligence, but astronomy is one of my other big interests and I thought I'd share the interesting topic of the most powerful explosions in the universe with you.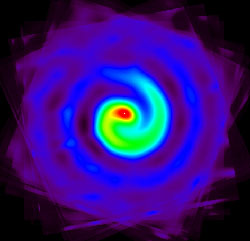 When someone asks what the biggest, most energetic events in the universe are, Gamma Ray Bursts are a good bet. These incredibly powerful explosions happen when the core of a very massive, fast rotating star collapses to form a black hole and surrounding matter of the outer hulls of the dying star fall towards the black hole. Due to the fast rotation and the acceleration towards the hole, the matter heats up and powers a powerful jet of gamma radiation that blasts outward through the "poles" of the rotating system (see illustration below). At least, that is what the most popular theory of GRBs says, the whole thing is still poorly understood.
The power these bursts have is incredible: If one would happen 6000 light years away from earth, it might cause a mass extinction (according to the History Channel, so take it with a grain of salt!). Also, just some seconds within the beam might cause a lot (some say 30-50%) of earth's ozone layer to disappear. The whole ozone layer damage we saw in the last decades had only about 5% of the layer disappearing! So, we'd rather not have a GRB happen near us.
The likelihood of such a burst striking earth very slim. GRBs are very rare events, and if a burst happens, the jets are very concentrated and thin. However, the odds are not zero.
Now, there is a binary star system called WR 104 about 8000 light years away from us near the center of the milkyway. After all the introduction about gamma ray bursts and lethal explosions and stuff, it is no coincidence I bring this system up:
The brighter of the two stars might, just maybe kinda possibly, be ready to go GRB on us. It's not at all clear if it can, and there is reason to believe it can't (young stars like this one tend to have characteristics that make it very hard for them to form an actual GRB). Also, even if it does blow up that way, the beams are a double-edged sword; yes, they pack an unbelievable punch, but they're narrow. A GRB would have to be aimed precisely at us to damage us, and the odds of that are pretty low.

Except that for WR 104, it's possible the star does have us in its sights.
That's an excerpt from an article Phil Plait wrote about WR 104 in his excellent blog BadAstronomy.com. Phil goes on to say that there are a lot of other variables like the distance, matter between us and the star, the time it will explode and so on which decrease the probability of the star being a direct danger to us substantially. So most likely, nothing is going to happen, and if something happens, it probably won't affect us at all.
Alas, a Gamma Ray Burst that hits us would most likely mean the end of most life on the planet, and with it the development of an universal AI (thus justifying this astronomy article here, phew!). Therefore such an catastrophic astronomical event (and that includes hits by asteroids, attacks by extraterrestrial lifeforms and so on) decreases the AI Panic Level by -0.1%. Actually I think the danger of these events is still lower, but I don't want to go into hundredths of percents, and therefore rounded it up.
I hope you bore with me here and don't find astronomy too boring, I certainly don't!
Stumble it!
Written by
Robin
Popularity: 50%